This is my 1st Five for Friday with Doodle Bugs Teaching: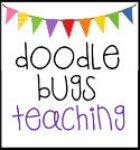 My 5 random things from this week:
It is SPRING BREAK and I found out last Friday, that I will be teaching 5th grade next year!!! I will have a wonderful new team to work with, which is SOOOOO important! Our district made some admonistrative changes, and in the process gave us the opportunity to request for a move. I requested 5th grade (IF they were departmentalized) as I would LOVE to teach reading and writing. Still not sure what I will be teaching. I just told them that it CANNOT be math (not my strong suit). Although I am nervous about the BIG move, I feel alright as I co-taught in 5th a few years back as a Special Education teacher. YAY!!
Since it is SPring Break, my littlest love (my daughter), wanted to have a friend over - well, we ended up having a friend one night & then her cousin another night - talk about being WORN out! It takes me a few days to recooperate from one.. let alone TWO! LOL. We survived:)
Friend spending the night...
Cousin spending the night... phew!
We had a lovely Easter - the weather was overcast, but we were able to color eggs and have a hunt inside. We also have DVR'd the Bible series from the History channel, and we were able to watch Jesus, our Savior, give His life for ours! This scripture always touches me (along with so many others)...

I began a new blog this week to help me stay focused on living a healthier life. It is not open to the public, only because it is really like a journal for me. The name of it is:
I have and continue to work on some 5th grade items. Yesterday, I made a 4 pictures, 1 word activity for early finishers or for a brain break. Today, I am working on some Mad Libs for more brain break activities... Hope to finished that and publish it today:)
Thank you for reading my Five for Friday:)